Welcome to Todd Expediting, Inc.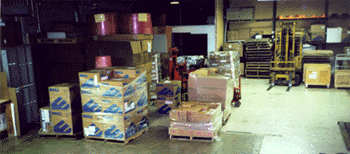 Thank you for your interest in Todd Expediting . We are pleased you stopped by and we look forward to serving you.
Todd Expediting is a full service courier and freight transportation company. We provide transportation solutions you can count on at highly competitive prices. We have built a reputation of great service and professionalism since 1973, and strive to make each day better than the last.
Over the years we have become the chosen transportation company for numerous high profile companies in the area. In addition we contract for many worldwide freight companies, who confidently put their reputation in our hands daily.
Todd Expediting is always here to assist you -- 24 hours a day, 7 days a week. If you should have any questions, please do not hesitate to contact us at (303) 394-3505 or contactus@toddexpediting.com.
CALL (303) 394-3505 AND REVIEW YOUR TRANSPORTATION NEEDS WITH OUR ACCOUNT CONSULTANTS
Monday - Friday
7:00 am - 8:00 pm
Saturday
8:00 am - 4:00 pm
On Call 24 hours a Day
Delivering the state of Colorado. Call (303) 394-3505 or contact us at ContactUs@ToddExpediting.com.